~ Re-recording Mixing
Re-recording, the process of the final sound mix in sync with picture, is the last audio process in the creation of a motion picture project where all of the sound elements are tactfully and tastefully mixed together in either mono, stereo or surround sound. Utilizing both analog and digital technologies to achieve the highest quality possible, we adapt to client projects quickly. Also, as a Supervising Sound Editor, we are comfortable working at other dub stages as well, allowing clients to utilize personnel and facilities they may have existing relationships with or are closer to.
In our mix room, we use industry standard Steinberg Nuendo to create surround sound mixes from 5.1/7.1 and beyond as well as Avid Pro Tools 12. Plugins range from Waves, McDSP, DMGAudio, and Sonnox, to the massively powerful restoration and processing tools of Izotope.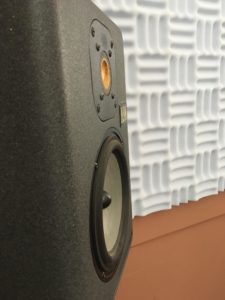 ~ Sound Editorial
Sound Editorial includes such services as editing, cleaning, and restoration of dialogue, Foley, and ambient sound tracks utilizing industry standard technology, along with the knowledge and skill that bring out the best in your production tracks.
~ Foley and SFX
Foley is the recording and placement of sound effects and sound nuances that help complete a soundtrack. These include sounds such as dinnerware clanking, glasses clinking, clothes rustling, or people walking/running. We can fully replace any sound or environment that was captured during a shoot that may not have the impact you really need.
We also have a sound effects library to pull from when Foley might not work or time might be most critical for finishing. Some are original sounds I have created over the years, while others are from production libraries like Sound Ideas.
~ ADR
'Automated' dialogue replacement (aka, dubbing) services are for syncing newly recorded dialogue tracks with the existing picture in real-time. Carefully matching up the dialogue track and environment for which the original picture was shot. Sometimes simple, sometimes not so. Replacing your dialogue can be critical if your audience cannot understand what is being said. We also partner with area studios to make it easier for your talent to travel.